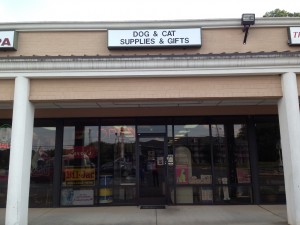 We are a Charlotte area dog groomer and dog/cat supply business.  Larry's Pet Grooming is located at 7200-C Albemarle Road in Charlotte, North Carolina. We are independently owned and operated pet grooming and pet supply business that prides ourselves on our dedication to providing the personal touch for dogs and their families!
We carry a full line of cat and dog food. We are proud to carry brands such as Eukanuba, Blue Buffalo and Bil-Jac. We also carry a large selection of pet training tools, accessories, toys and healthy treats.
At Larry's Pet Grooming, You'll find great dog gifts for your four legged companion, as well as the perfect gift for pet lovers like yourself!  We have many dog breed specific gifts including breed specific figurines, Sandicast , dog watches, dog jewelry, ornaments, dog breed t-shirts and collectibles.  With our Sandicast line, we offer a wonderful selection of dogs, cats, and a variety of wildlife sculptures!
For more information, please call us at 704. 537.0387 or visit our store at 7200 Albemarle Rd,
Ste-C  Charlotte , NC 28227.